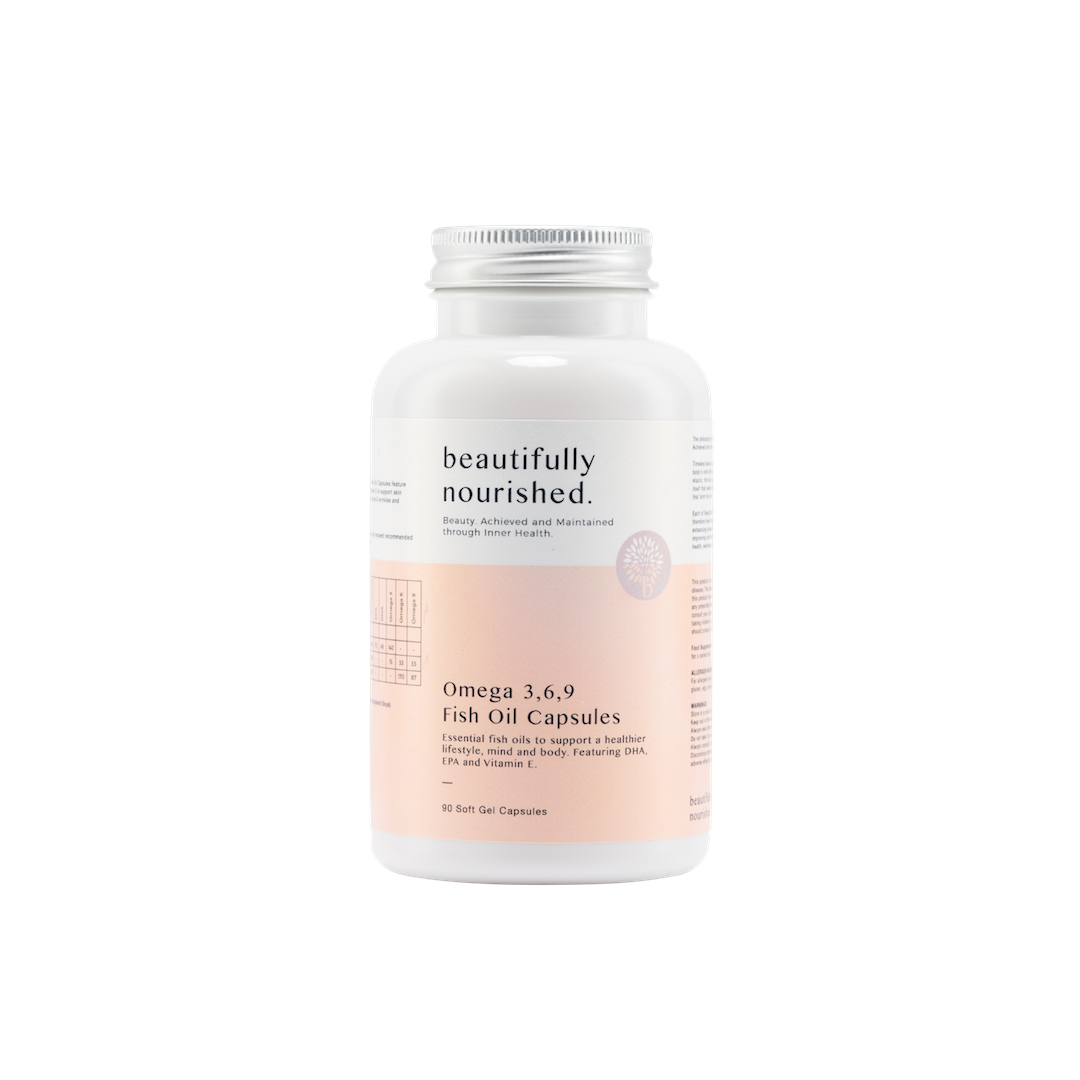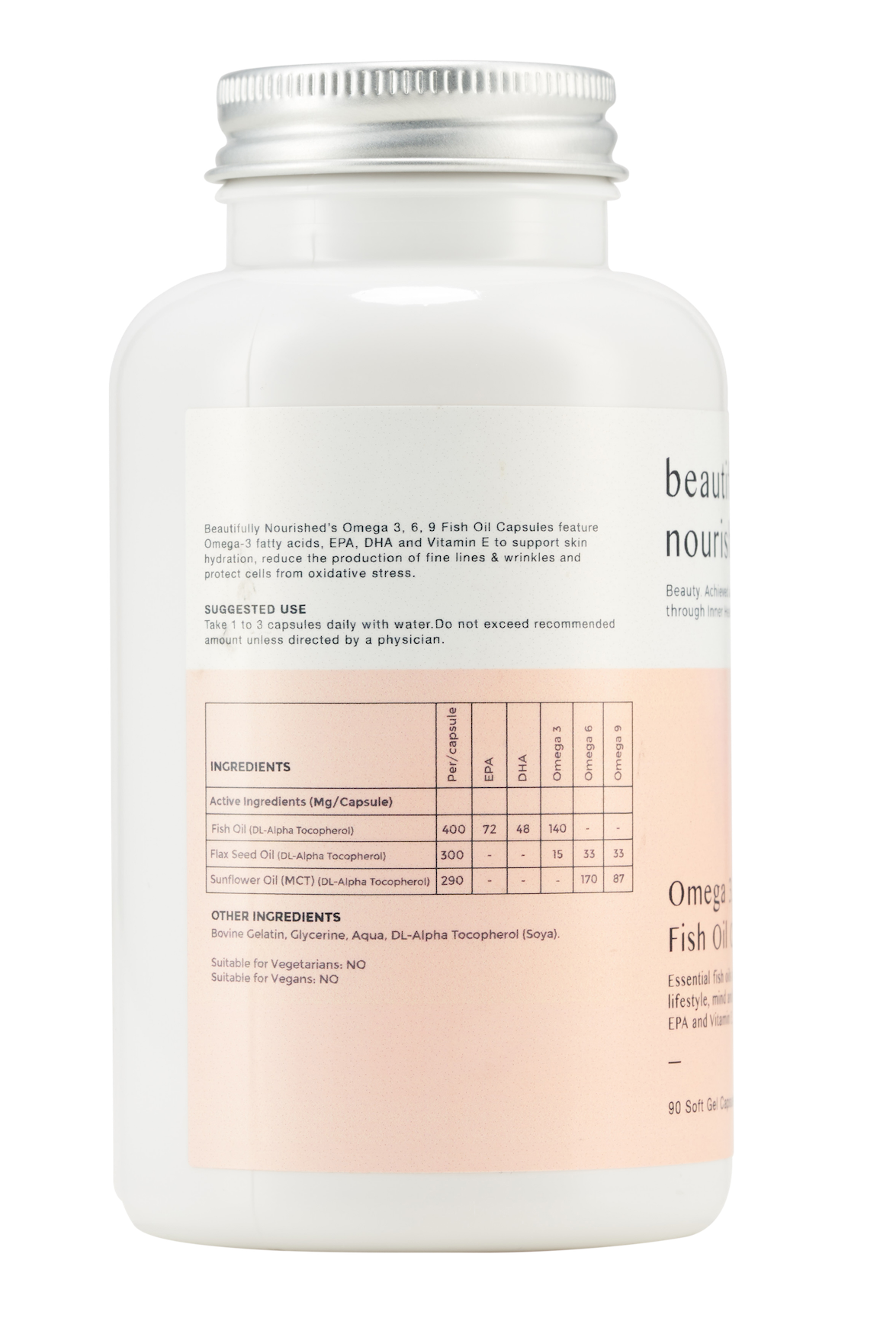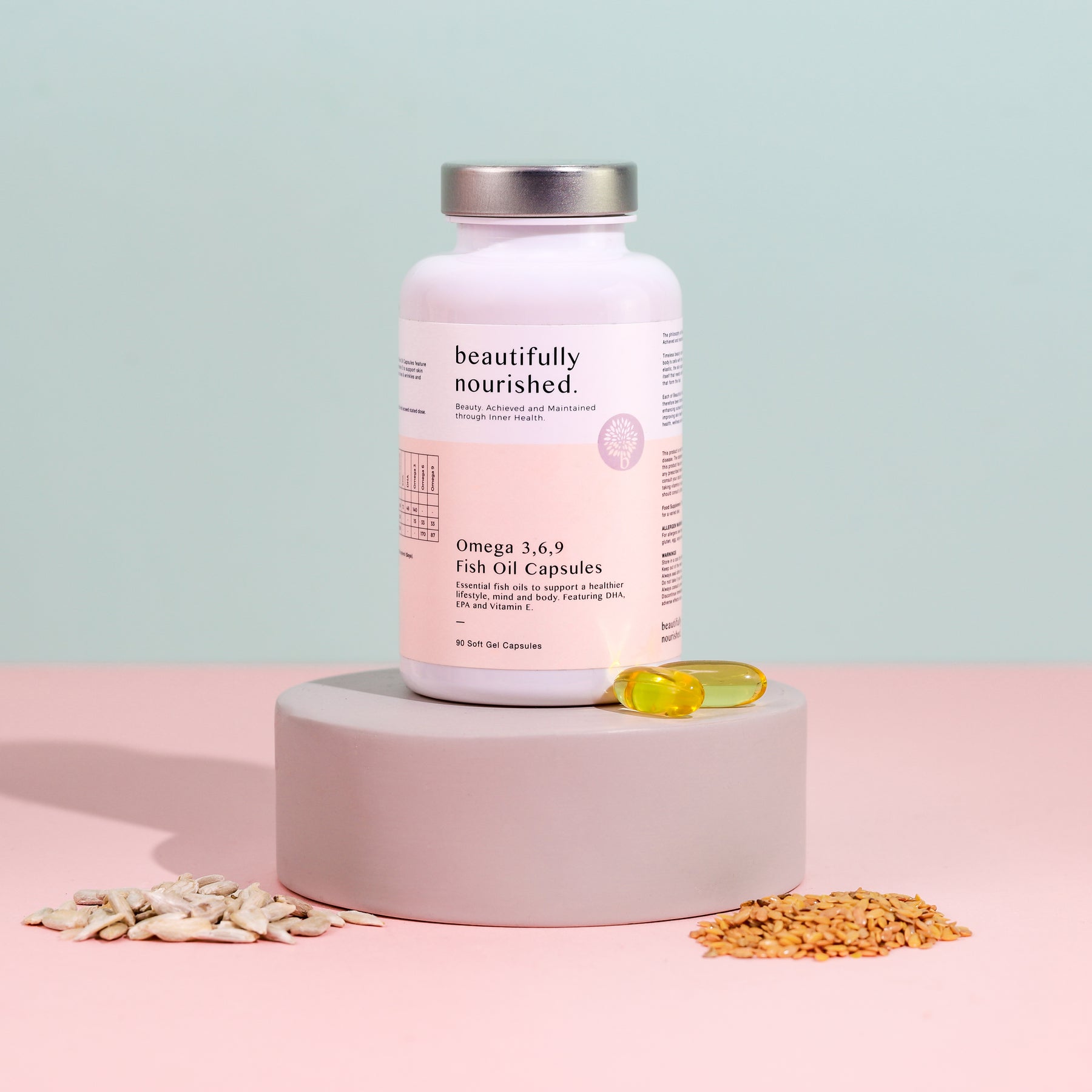 Beautifully Nourished's Omega 3, 6, 9
Subscriptions:
One Months' Supply
Description
Beautifully Nourished's Omega 3, 6, 9 supplement features Omega-3 fatty acids, EPA, DHA and Vitamin E to support skin hydration, reduce the production of fine lines & wrinkles and protect cells from oxidative stress.  
How it Works
What can omega 369 do for you? Combined omega 369 supplements provide each fatty acids in suitable ratios.
When buying an omega 369 fish oil supplement, choose one that contains an antioxidant such as vitamin E as within Beautifully Nourished fish Oil Capsules. This will ensure that you are taking a supplement that isn't oxidised.
What are the benefits of omega 369?The omega 369 health benefits include:
Brain health and mental health support.

Improves heart health.

Supports weight management.

Can reduce inflammation.

Supports infant brain development.

Forms a vital part of cell membranes.

supplement for joints
Other omega 369 uses include: 
Omega 369 for skin.  Omega fatty acids can serve to regulate the skin's oil production, improve balanced hydration, subdue breakouts and minimise signs of ageing. Omega 369 can also help soften and soothe rough, dry or irritated skin.
Omega 369 for acne. A diet rich in omega-3s may help prevent or reduce the severity of acne.  Studies have shown a decrease in acne lesions when supplementing with omega-3s, either alone or in combination with other nutrients.  
Omega 369 for heart health. DHA and EPA within Beautifully Nourished's Omega 369 vitamins, contribute to the maintenance of normal blood triglyceride levels.
Does omega 369 help with hair growth? Omega 369 may boost hair growth and reduce hair loss. Studies suggest that omega-3s may boost hair growth. 
Omega 369 benefits weight loss.  Omega-3s may help you lose weight is by increasing your metabolism. 
Omega 369, brain health. The omega-3 fatty acids found in fish oil play important roles in brain function and development. The DHA present within Beautifully Nourished's Fish Oil contributes to normal brain function. 
FUN FACT: The difference between omegas is where the first of the double bonds occurs in the fatty acid chain occurs. For example, in omega-3 fatty acids, the first double bond occurs on the third carbon atom, but in omega-6 fatty acids, the first double bond is on the sixth carbon atom and so on.
Omega 369 Key Ingredients 
Fish Oil: Fish oil contains omega-3 fatty acids inclusive of EPA (eicosapentaenoic acid) and DHA (docosahexaenoic acid).
DHA contributes to maintenance of normal brain function. 

EPA and DHA contribute to the normal function of the heart and normal blood pressure.
Omega 369 Ingredients 
Fish Oil, Flax seed oil, Sunflower oil
Fish Oil (DL-alpha Tocopherol) Providing 72 mg EPA, 48mg DHA, 140mg Omega 3, Flax Seed Oil (DL-alpha Tocopherol) Providing 15mg Omgega 3, 33mg Omega 6 and 33mg Omega 9, Sunflower Oil Providing 170mg Omega 6, 87mg Omega 9
Allergens in bold: Contains Fish, soy 
Omega 369 Vitamins, Suggested Use
Omega 369 dosage: How much omega 369 per day? We recommend  one to three omega 369 oil capsules daily. 
Suitable for Vegans: No
Omega 369 for Vegetarians: No
Volume: 90 Soft Gel Capsules
Gluten Free* All of our Beautifully Nourished products are shipped to our customers via biodegradable, compostable mailer bags.
Available at
Write some content about what they are saying about your store.
Write some content about what they are saying about your store.