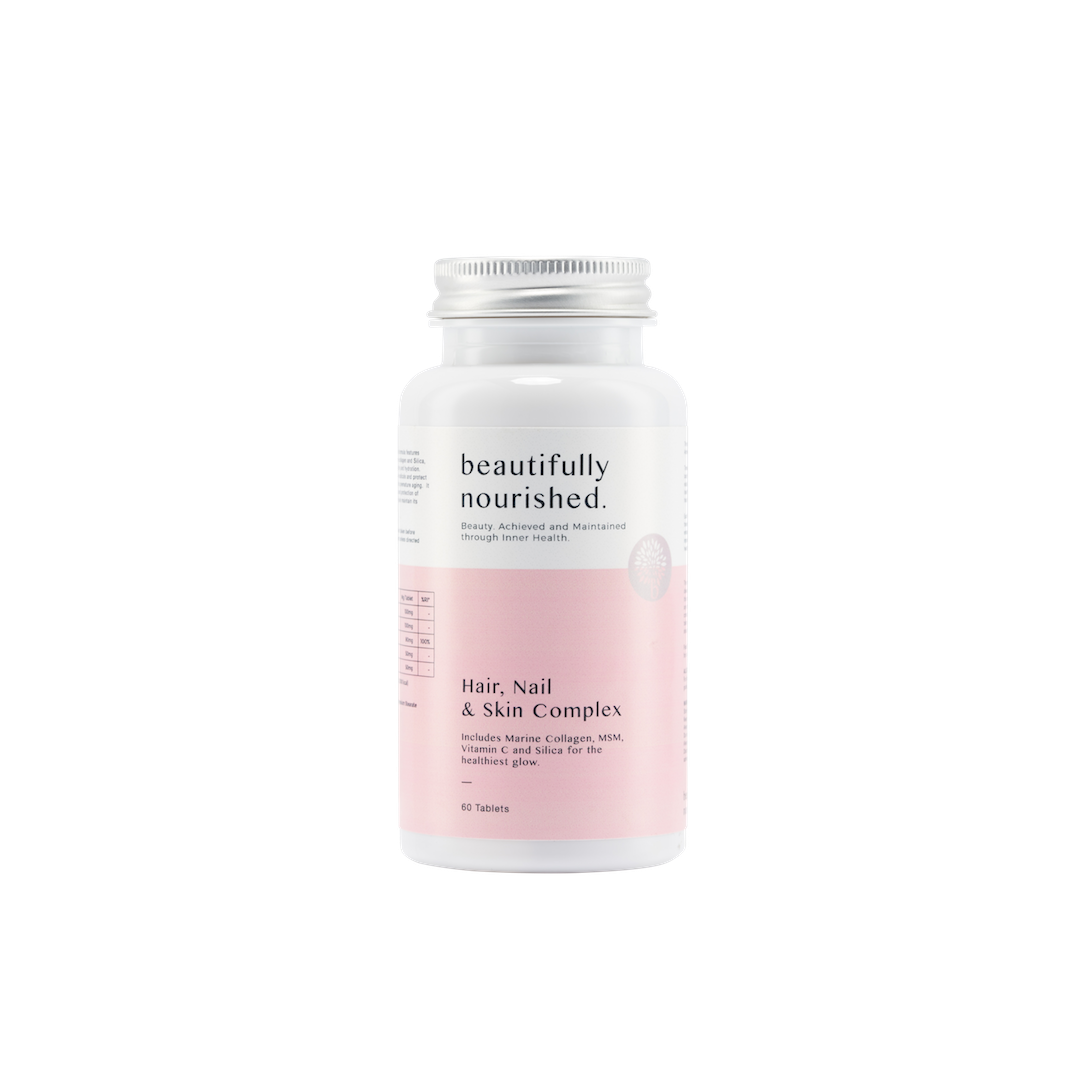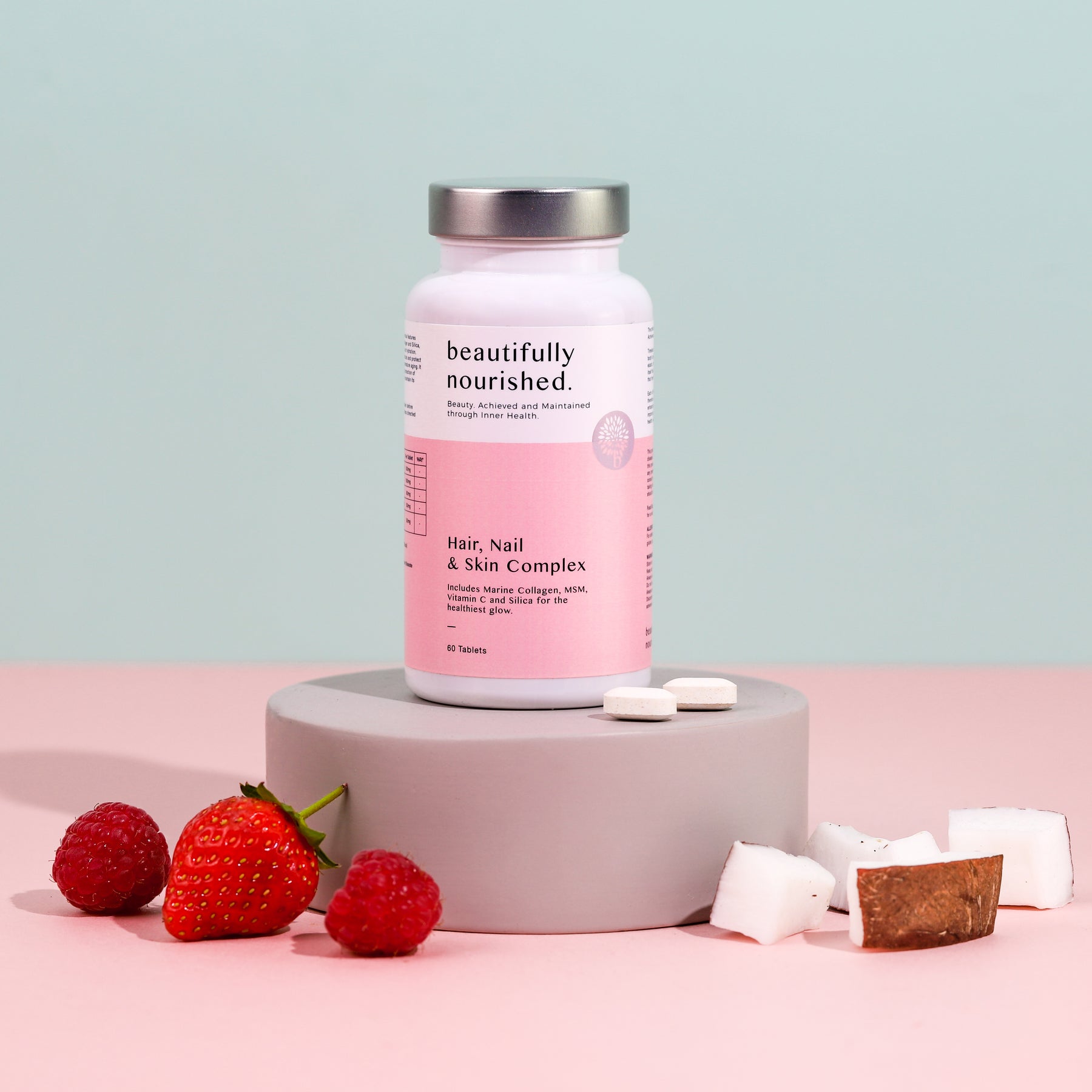 Beautifully Nourished's Hair, Nail & Skin Complex
Subscriptions:
One Months' Supply
Description

The perfect collagen elixir.  Beautifully Nourished's Hair, Nail and Skin Complex features synergistic nutrients, such as MSM, Marine Collagen and Silica, which work together to support skin elasticity and hydration.
Accompanying Vitamin C helps to fight free radicals and protect the skin from sun damage, which can lead to premature ageing. It can simultaneously enhance the synthesis and protection of collagen, one of the key proteins that help skin maintain its strength and elasticity.
How it Works
Collagen is the most abundant protein in the human body.  It is found in the body's bones, muscles, ligaments, tendons and skin, supporting and connecting all of these tissues. We want to protect this protein.
As we get older collagen production slows down, which can contribute to:
Hair thinning

Thin, brittle nails &

Skin elasticity loss
Beautifully Nourished's Hair, Nail and Skin, Collagen beauty vitamins have been formulated with synergistic ingredients to encourage the biosynthesis of collagen within the body, keeping the skin supple and the hair and nails, strong. Making our Hair, Nail and Skin Complex the perfect vitamins for skin health.
Key Ingredients
MSM (Methyl Sulfonyl Methane): MSM is a naturally occurring, organic form of sulphur.  It is known for it's anti inflammatory properties as well as it's abilities to improve skin structure, elasticity and condition for a healthy looking complexion.  It also maintains the strong condition of the hair and nails. 
Silica, The Benefits: Also known as silicon dioxide, Silica is a natural trace mineral made from both silicon molecules and oxygen.
Fun Fact: Silicon is the second most abundant element on Earth (Oxygen if the most abundant).
Silica is found naturally in many plants, such as leafy greens and whole grains. Within Beautifully Nourished's Hair, Nail and Skin Complex, Silica works alongside synergist ingredient, Vitamin C to improve collagen production.
As well as it's importance for optimal collagen synthesis, it also activates hydroxylating enzymes, improving skin strength and elasticity. Studies to date support that women who take 10 mg of silica on a daily basis, improve their skin's texture.
The presence of soft and brittle nails can indicate silicon deficiency and supplementing with silica can strengthen both the nails and hair and prevent hair thinning.
Ascorbic Acid, The Benefits: Also know as Vitamin C, ascorbic acid is a water-soluble nutrient that plays an important role in keeping skin healthy. Ascorbic Acid stimulates the biosynthesis of collagen. The main cutaneous collagens are Type I (found in Beautifully Nourished's Hair, Nail and Skin Complex) and Type III. As we age, the synthesis of these collagen types decreases.  Supplementing with ascorbic acid can support the biosynthesis of new collagen fibres. 
Marine Chondritin, The Benefits: Chondroitin is one of the building blocks of cartilage. Studies have found that supplementing with chondroitin can prevent cartilage break down and  stimulate its repair mechanisms.
Boosting a collagen lift.  Marine Collagen, The Benefits
Marine Collagen Benefits for Hair and Nails: Marine collagen has the ability to increase hair and nail growth. 
Marine Collagen Benefits for Skin: While collagen production naturally declines as we age, studies show that supplementing with marine collagen maintains dermal thickness by promoting the number and activity of skin fibroblasts, or cells in the dermis that produce collagen and other fibres. In one study, women who took a supplement containing hydrolysed Type I, as is within Beautifully Nourished's Hair Nail and Skin Complex, had better supported skin with the diminished appearance of fine lines, wrinkles and better maintained moisture levels.
Ingredients
Methyl Sulfonyl Methane (MSM), silica, ascorbic acid, marine chondritin, marine collagen.
Suitable for Vegetarians: No
Suitable for Vegans: No
Allergens in bold: Fish, molluscs.
Suggested Use 
Take two skin, hair and nails tablets daily with water.

Volume: 60 Tablets
All of our Beautifully Nourished products are shipped to our customers via biodegradable, compostable mailer bags.
Available at
Write some content about what they are saying about your store.
Write some content about what they are saying about your store.